The more research we do, the more we post on this site, the more obvious is becomes that different areas of the world, different peoples are need the flexibility in the approach to developing dew collection systems for plan irrigation. Some places have a lot of fog and would benefit from using nets-based D.R.I.P.S. to catch the water from the air; some places have access easy access to clay, making clay D.R.I.P.S; some areas have a lot of recycling and both plastic and aluminum are good materials for D.R.I.P.S. Every area that need D.R.I.P.S. needs to pick the method of manufacturing and materials that make sense for its situation.
We already posted some of our ideas for the different configuration D.R.I.P.S. can take:
Different situation, different solution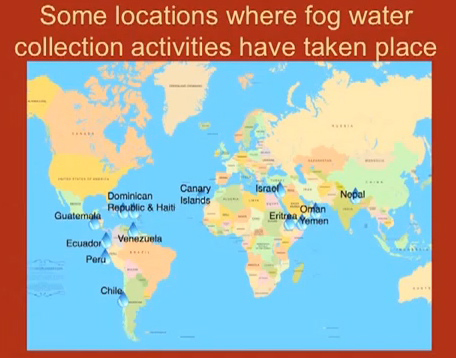 There is no one good solution to dew collection. This site now hosts a large collection of articles and videos showing how dew collectors can be made, where they can be purchased, and how these different systems are used around the world. The main trick is to get the water to the roots and below evaporation layer.
This is a map of the world showing where some fog collection have taken place. For more information on each of these areas, visit our Background Research section of this blog.