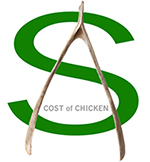 This year (2011), we are still focusing on food. We want to know the true cost of food — its price; the distance it traveled to get to our dinner tables; the people who grew it; the methods that were used to grow it; how it was produced; how good is it for us and for our environment. And we also want to know if there is food inequality — do some people have less access to good food then others? We noticed that some neighborhoods in the Bay Area where we live don't have places that sell fresh produce! So for some people, it's easy to buy high quality inexpensive food, and for others it's almost impossible. That's food inequality.
There's also food insecurity — some people have to worry that they might not get enough to eat from day to day. Sometimes, it's because they don't have the money to buy food. Sometimes, it's because there's no food to buy.
Cost of Chicken project is about trying to find out where and why there's food inequality and food insecurity. That's why Ushahidi's crowdmap is a perfect fit for our project — it allows us to gather information from all over the world and it lets everyone see the data right away. Because it's not just about learning about food inequality and insecurity, it's also about trying to fix the problem. And to fix the problem, we need to understand it.
Please help us collect food data — food anthropology is fun! And the data is available to all to use and understand the true costs of food and how we can improve the world by improving food production, transportation, and management.
Become a Trusted Food Reporter!
Thanks!