We've got an invitation to The Energy Lab — EDF's new pavilion in France, featuring the winning designs from the EDF Sustainable Design Challenge. Below is the invitation in full. Sadly, we won't be going…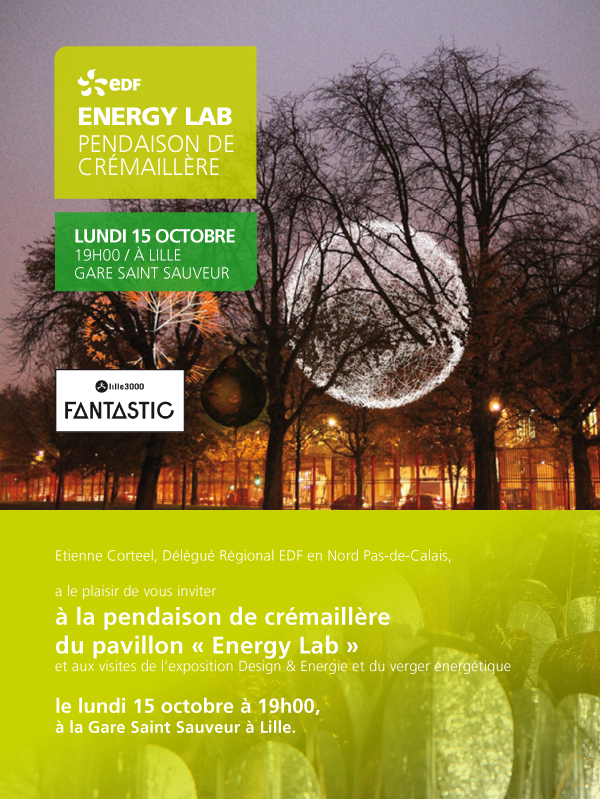 EDF is proud to invite you to the opening of The Energy Lab where you can visit the "Design & Energy" exhibition and the Energy Orchard.
Monday, October 15th, 2012
from 7 :00 pm
in Gare St Sauveur, Lille (France).
The Energy Lab is a low energy consumption pavilion that explores the development of future energies.
Designed by Loop.pH design agency (London), The Energy Lab features an exhibition of projects developed as part of the EDF Sustainable Design Challenge, a design competition created in collaboration between EDF and the APCI.
The Energy Lab also offers workshops that explore the energy potential of fruit, vegetables, algae…
Within a walking distance of The Energy Lab Pavilion, "Parc Jean-Baptiste Lebas" has been transformed into a mystical, surprising and futuristic place. Renamed "The Energy Orchard", the display of radiant artistic work creates a poetic link between electricity and plant-derived energy.